Hello Friday, I have waited all week for you! So glad you are here… This week has been long, and started out on way too little sleep! But, there does seem to be a light at the end of this long tunnel for us… The little girl, and I hope I'm not jinxing myself here, has slept through the night, the past two nights… Trust me, I was dancing a little in the shower this morning, too much info, sorry! I guess I better settle down a little, she might have just been giving us a break, to pull another month of sleepless nights. If that is the case, thanks sweetie for the break, mama truly enjoyed two nights of sleep.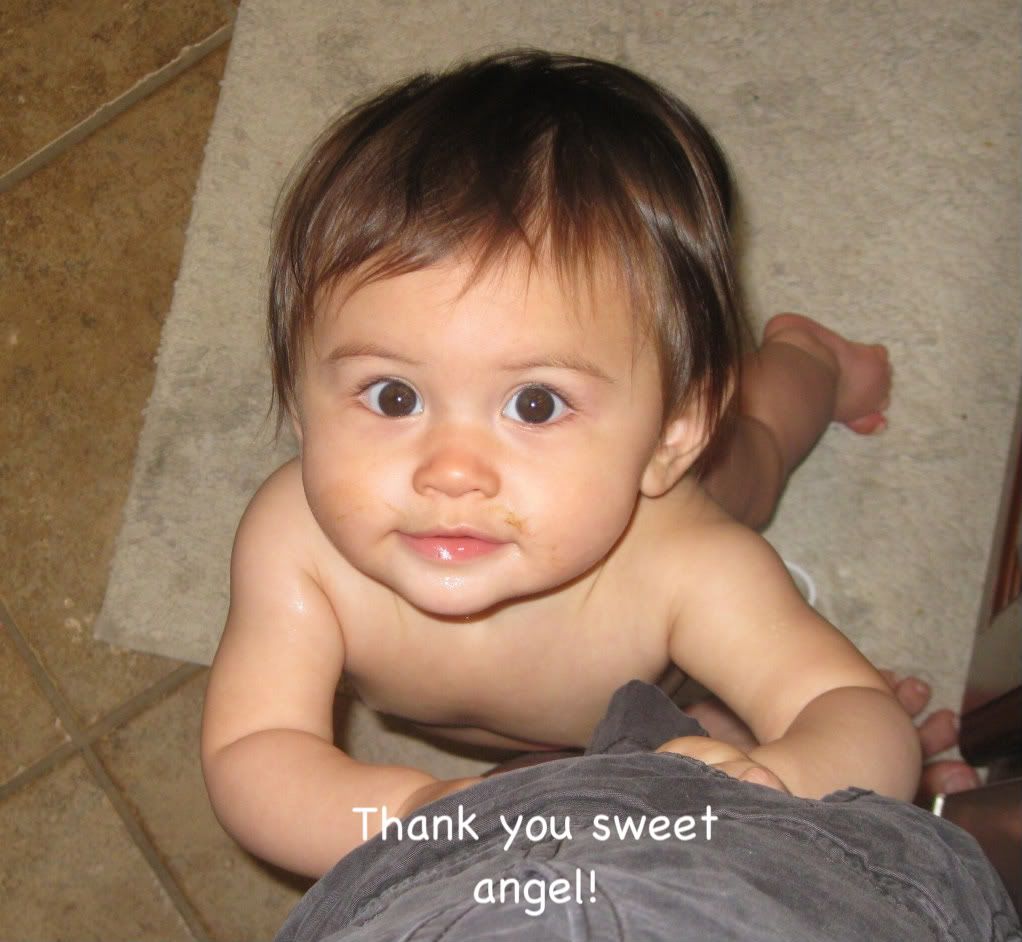 ***yes she has food on her face... Sometime we leave it there for a day or two, we believe it adds character!
I'm also doing a happy dance, because I have a three day weekend to enjoy with family and friends! We have family coming over tomorrow, a wedding on Sunday, and then family day on Monday… It is shaping up to be a great weekend! Excited to see our family and friends as always!
But my week wouldn't be complete without some "What was I thinking" moments to share:
Last week when I was sick, my Aunt had told me to get some Mucinex DM, which I thought that is what I grabbed, to only realize on Saturday morning, a good 4 days later that is was Mucinex D that I had grabbed… I guess I need to pay a little more attention…
Putting your contact lens in the wrong eye… Yeah, I do this quite often actually. My left eye requires a stronger lens… You would think that I would know better, but obviously I don't!
Getting side tracked by your kids, and only putting self tanner on one arm and leg. I guess it balanced out a little, the right arm got love and so did the left leg. I looked like an X I guess…
Miss placing your debit card and totally freaking out at work when I couldn't find it. Getting home looking through everything, still not being able to find it, and telling the husband we would have to cancel my card, to only find it 5 seconds later in my daughters backpack. This was the first place I looked when I got home. It would have been nice if I would have seen it the first time, so I wouldn't have torn the house up like a mad woman looking for a darn piece of plastic! Trust me, I kissed it and told it I would never let it out of my sight again… She forgave me, and told me to go shopping today!
I would love to hear your "What was I thinking" moments of the week…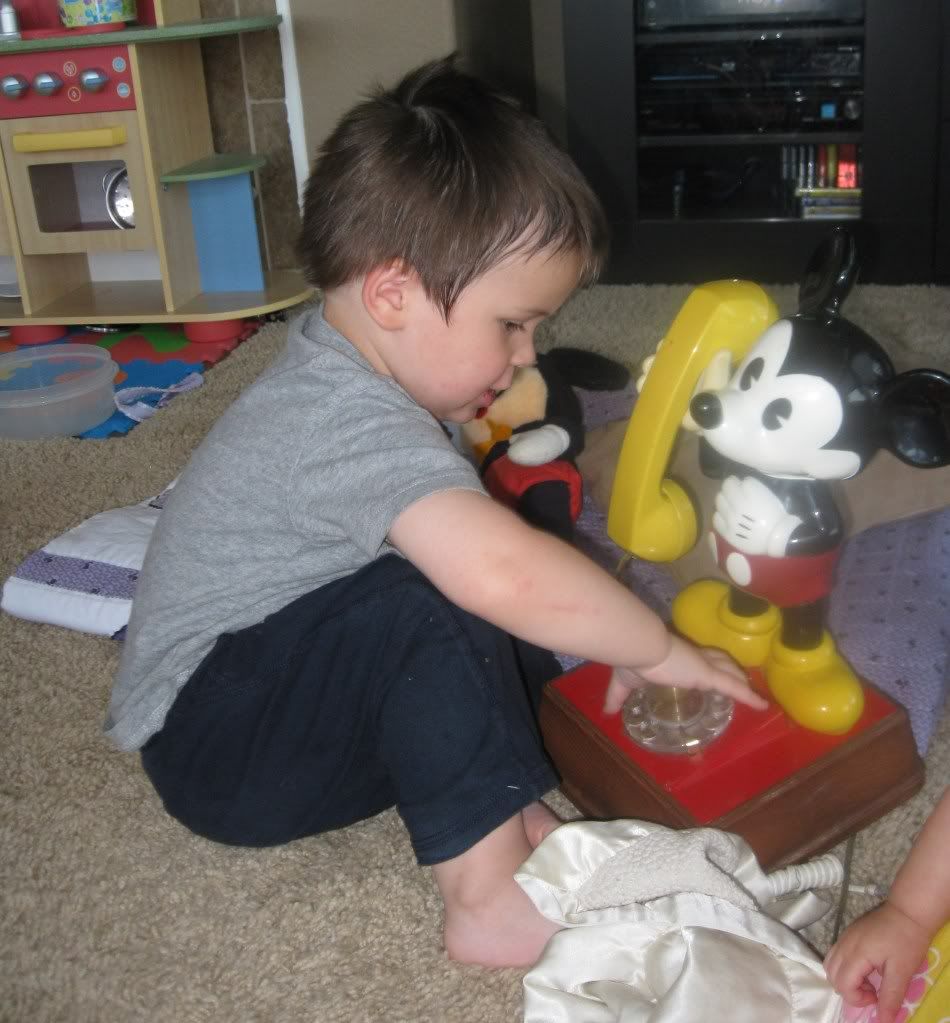 This Mickey Mouse phone is over 30 years old…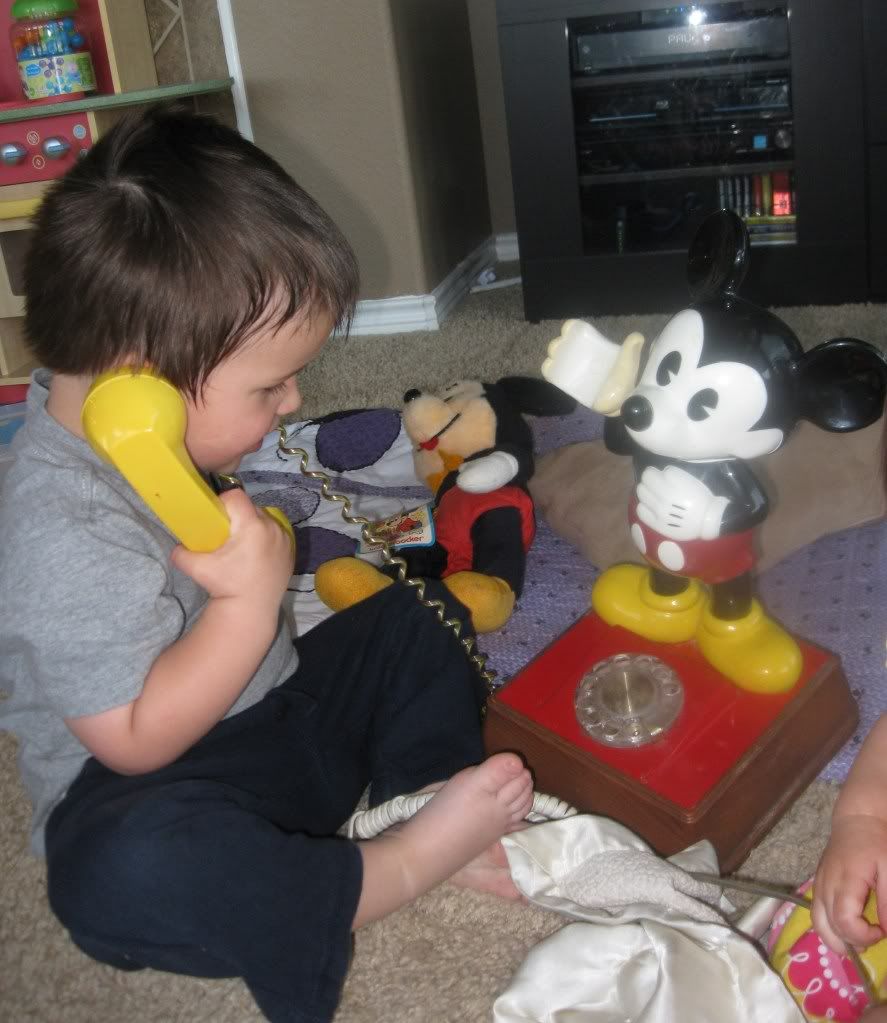 My Aunt got it for me, before I was born… And M loves it!

The blanket the kiddos are playing on was made for me when I was a little girl by my grandmother. It is over 20 years old… It's nice having some of my things that I had as a child around the house! And I love seeing my kids enjoying some of the things I truly enjoyed as a child!
Happy Friday, and cheers to a fabulous weekend!