I often reflect back on when I was a child, especially now that we are older and things are changing. I remember when I was around 7 or 8, I would tell my Nana & Papa and my Aunt, that we were going to live together when I got older. Yes, all of us in the same house under one roof, I was very serious about us all living together. There was a house that sat on a hill right before you got to my grandparents exit, that I always told them I was going to buy, for all of us to live in. Things were so simple then, sometimes I wish things were still that simple.
Since the beginning of the year our family has been faced with some hard decisions, and the guilt of, are we making the right decisions. It's always hard when it's in regards to someone you love. But after spending today with my Nana, I do think the right decision was made. She looked better today, than she has in over a year. She was laughing, and interacting with the kiddos. It's not easy putting someone you love in a full time adult living center, but she required around the clock care, that we just won't able to give her (and by we, I mean Papa, my Aunt & Uncle).
Nana with Rehab...
It was a very nice day. It was sad when it was time to go, and I knew we were leaving without her, that was hard, but I reflected back on the visit and how great it was.
Papa giving the little girl some love...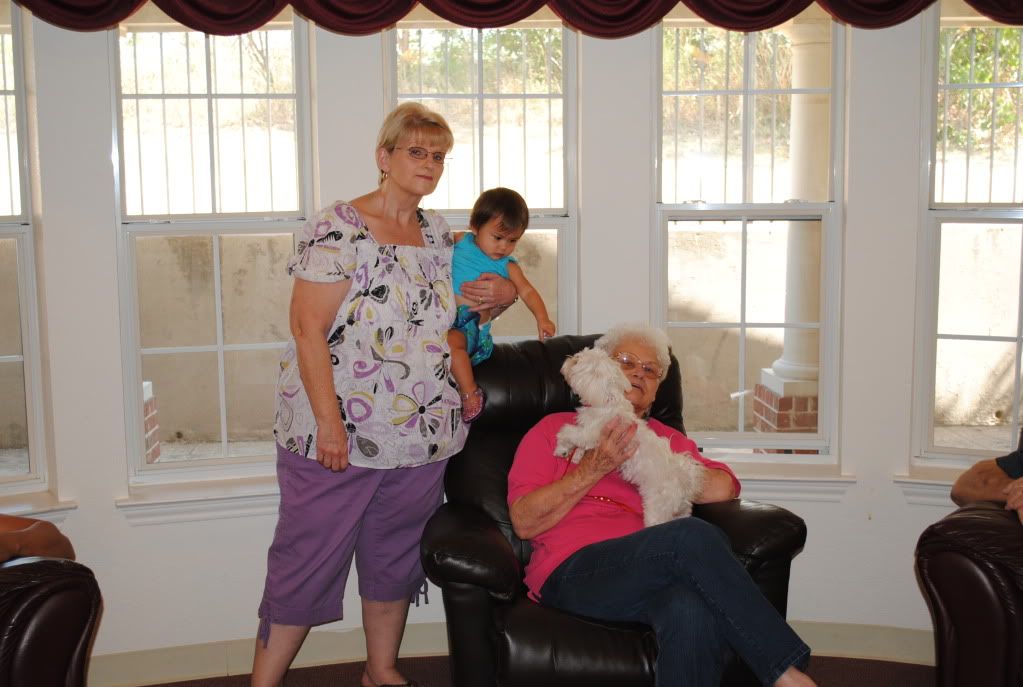 The girls minus me, plus Rehab. He filled in for me...
My Uncle and sweet girl, look at that smile. Such a happy sweet baby girl!
The other day my Papa said that if he could only win the lotto, he would bring Nana back home, and hire someone to help take care of her. I know this is hard for him, I can't even imagine. I always said when I was younger; I wanted to marry someone like my Papa. He has always been so sweet, loving and very caring when it comes to my Nana. She is the love of his life, and always will be!
Papa, Nana, Rehab and the little man.
BeeBee giving the little man some love.
My Nana, Papa, Aunt and Uncle have always been there for me, they know I'm not perfect and haven't ever judged me. I couldn't have been blessed with a better set of grandparents, than my Nana & Papa, and my Aunt & Uncle. They have played a very special role in my life.
I'm glad we had today, I'm glad my Nana was/is doing so well, I'm glad that the right decision was made, and I'm glad to be surrounded by such a loving family as mine.
I want my kids to feel and have the love that I had as a child. I spent a many weekends, school breaks, and summers with my Nana, Papa, and Aunt. I have gone on a many shopping trips with my Nana & Aunt, and have gone on several road trips with my Papa. I have very special memories of my childhood when it comes to them, and I wouldn't have changed a minute of it.
I'm thankful for today, and I'm looking forward to next Sunday, as this will be our Sunday routine, spending the morning with Nana.
xoxo, Shanna